There are interactive resources to learn all sorts of things these days. From interactive math, science, reading, typing, coding, spelling… you name it! However, as far as learning applications or processes go… not so much. That's where iorad comes in. There are 3 scenarios where iorad is used in Canvas: Teacher — Student, Teacher — Teacher, and Teacher — Parent.
Teachers and Instructional Techs use the iorad integration to populate Pages with How-To tutorials to share with fellow teachers as a place to reference. Teachers also use this integration for creating help sections for their students. No matter what class, the opportunities are almost endless how teachers can utilize iorad in the classroom.
Teachers have used iorad as a tool to flip the classroom in & outside the classroom walls. They insert an iorad within an assignment, similar to having split screens for the student. Here is an example of how an English teacher at Alpine High School uses it as they assign an MLA format assignment. They embed a Google Doc next to an iorad that teaches the steps of how to properly format an MLA paper in Google Docs. The student can mimic the instructions in the tutorial right there in the Google Doc assignment and then submit it on the spot.
Other teachers have used iorad to help them flip their classroom, ensuring that the students are guided properly through the lesson as they would be in class. They use all the same content they present in class and use iorad to walk the students through the Hyperslides and Hyperdocs in the proper order.
Diane the Program Administrator at Portland Public Schools loves iorad and shares that it's extremely intuitive. She submits hundreds of quick walk-through tutorials for students in online learning and iorad saves them so much TIME! She uses Google Translate and our Amazon Polly features to generate text-to-speech instructions.
What about the ever so fun process of registration at the beginning of the year? This is where you ask parents to learn their way around various systems to give you all this information about their child. You can use iorad to walk them through how to get set up in the various applications they or their student will use in class, almost like you are holding their hand.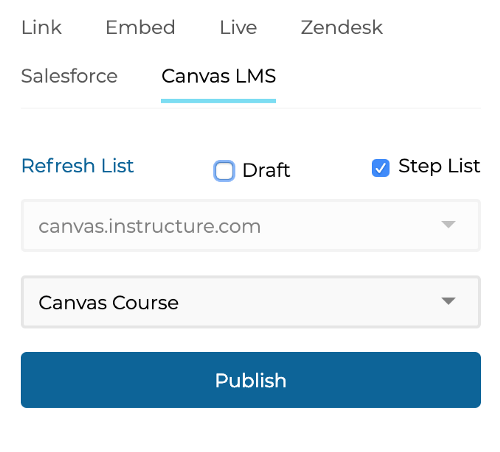 Whether you are creating content for students, teachers, or parents, using iorad and publishing to Canvas is super simple. After connecting Canvas and iorad, just click the "Canvas LMS" tab in iorad finish screen, select your course and click Publish. Check out the iorad below to see just how simple it really is!
I made this in 2 minutes using iorad. That's all there is to it. Sign up for free to create yours today!